The residential complex is being constructed on the territory of 6,102 sq m between Nevzorovyh Street and 3rd Passage. The complex will consist of 2 buildings with 5 and 16 floors. It will include 224 apartments on a total floor area of 15,318 sq m, and an underground two-level parking for 168 cars.
The construction manager of the residential complex is "Start-Stroy" LLC, which is a part of "Stolitsa Nizhny" Group. The company is the winner of the honorary pennant "For the valuable contribution to development of the city" instituted by the Head of Nizhny Novgorod city Administration.
Approximate date of beginning of construction -
4rd quarter of 2012.
Approximate date of completion of construction -
1st quarter of 2014.
The entrances to the residential buildings are facing the back yard, thereby, the inner yard area is formed. On the contrary, all the public premises have entrances from Nevzorovyh Street and 3rd Passage and are accessible from the walking gallery. The facades will be decorated with textured plaster, facing bricks, and facade glazing. The complex is being shaped with the accentuation of the facade of the 16-floored building, which is facing 3rd Passage and is intended to be viewed from Belinskogo Street. The facade of the 5-floored building on Nevzorovyh Street is integrated into the local architecture. The complex provides space for public premises, as well as a 2-level car park under the buildings and the yard. The design of the residential complex is based on original architectural and structural-spacial concept.
Development Plan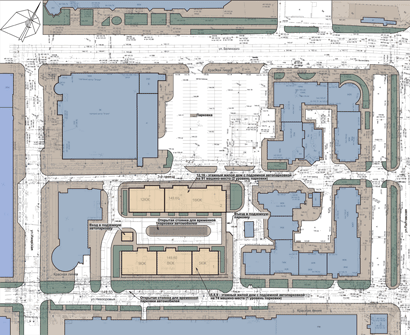 Map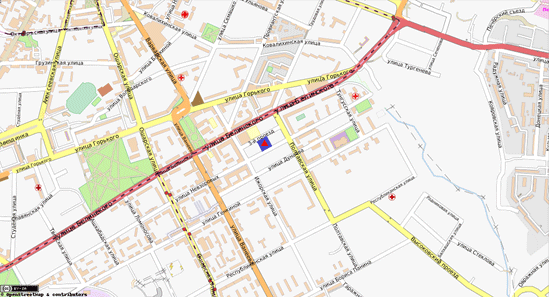 The residential complex is being constructed in the central and highly developed part of the city. The future complex is close to "Etazhi" Shopping Center with its hypermarket, restaurants, boutiques, home electronics stores. A post office, pharmacies, major banks, a fitness center, schools and polyclinics are on a walking distance as well.