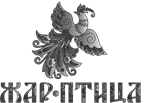 Shopping and entertainment center "Zhar-Ptitsa" ("Firebird") on Sovetskaya Square was opened in October, 2015. It created an important modern infrastructure of consumer and recreation services, which previously had been underdeveloped in the area. The new three-storey building with a total area of 100,000 square meters accommodates stores, service businesses, consumer services, travel agencies, a fitness center children's development and gaming complex with total area of 2000 square meters which is the largest one in the region, as well as hypermarket with affordable prices.
The land where the shopping center was built had traditionally been used as a commercial area, popular among residents of the neighborhoods. The traditions of private market trade are preserved, for this the developer constructed a market pavilion with total area of 6,000 sq.m., which became a part of the modern shopping center.
The shopping and entertainment center has a concert stage with professional sound, lighting and special effects equipment.
The parking ground includes more than 1,500 parking spaces. The territory around the building has been landscaped, natural area nearby has been preserved and reconstructed.