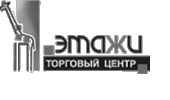 "Etazhi" ("Floors") shopping center was opened in the center of Nizhny Novgorod in 2003. It offered a floor space of 18,635 sq m. This development project was completed in a record-breaking short time of 15 months.
"Etazhi" has become the city's first European standard shopping center, which was constructed in a form of "intellectual building". The highest quality materials and most up-to-date technology were used during construction.
Availability of equipment and aesthetic qualities of the shopping center have set a high standard for building similar real estate properties for years.
Thanks to effective management of "Stolitsa Nizhny" Group, "Etazhi" shopping center has had a significant influence on consumer habits development in Nizhny Novgorod. It contributed much to attracting many Russia's and world's premium brands to the city. The largest retailers operating at the center are "L'Etoile", "Tinkoff", "Nasyanya", "Seven" supermarket, "Milo" Group.
The shopping gallery of "Etazhi" also provides retail space to many international brands such as "Bang&Olufsen", "Ecco", "Domani", "Ketroy", "Swatch", "Luisa Spagnoli", "Bally", "Cinzia Rocca", "Fabi", "Harmond&Blaine", "Dino Bigioni", "Celyn B" etc.
Awards:
"Etazhi" shopping center won the top place in the Nizhny Novgorod Architectural Rating and was named the best building in 2002-2003.
In 2003 the shopping center was acknowledged as the best public building in Russia and was awarded a gold medal at the 10th World Triennial of Architecture "Interarch-Sofia"
In 2007 "Etazhi" established a record by number of shopping center visitors joining each other in a round dance. The record was officially entered in the Russia's Book of Records.
"Etazhi" shopping center became the leader in regional selections at Trade-marks Contest "Zolotnik" and took the 2nd place in "Attractiveness" nomination of the 3rd Russia's Trade-marks Contest "Zolotnik". "Etazhi" is a winner of many city and regional awards.
In 2011 "Etazhi" shopping center was listed in "Russia's 100 Best Shopping Centers" rating prepared by the Guild of Property Managers and Developers.